Magical Christmas Memories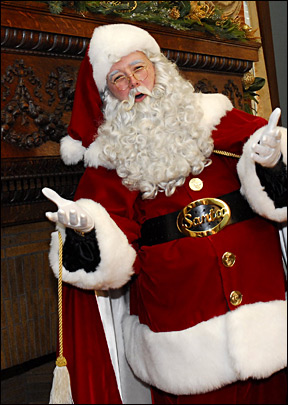 Fond childhood Christmas memories of special visits with Santa at Chapel Hill Mall in Akron, Ohio inspired Singing Santa to make a decision at the age of 21 to bring the same joys of Christmas to children for a life time.
So with the help of a local Santa, a training course in being a great Santa, and a heart's desire to be the best Santa ever, Singing Santa set out to the keep the Spirit of Saint Nicholas alive.
Singing Santa was hired at Chapel Hill Mall, as the youngest Santa ever in the mall's history.
This young Santa was given the coveted position of riding in on a baby elephant, a long running tradition at Chapel Mall, on opening day November 22, 1985. The rest as they say is history!
Since those early days Singing Santa has been a busy Jolly Old Elf with numerous Santa Claus visits around the country.
In 2015 Singing Santa Claus marked his 30th year of service!
To learn more about Singing Santa, visit the Singing Santa Claus Gallery or if you would like to find out if Santa is available for a visit with you, contact Santa's Executive Assistant, Tom Long.