The Singing Santa Claus is a professional entertainer, experienced actor, and an accomplished Baritone. He is a graduate of the Charles W. Howard Santa Claus School, the St. Nicholas Institute and an original Member of the ClausNet Santa Claus Community. The Singing Santa Claus has appeared at numerous tree lightnings, corporate events, and on several local and national television programs.
This year 2015, marks the 30th year of service for Singing Santa Claus! Some of the highlights from the past twenty-eight years include…
Santa Claus Chapel Hill Mall, Akron Ohio 1985-1986
Marine Corp Exchange, Norfolk, Virginia, Santa Claus 1987-1990
Countless home, senior citizen homes, hospital, and school visits 1985-2013
WAVY TV 10 promotional interview for the Grand Illumination at Farmers Market, Virginia Beach, Virginia, December 1997
First Annual Grand Illumination at the Farmers Market sponsored by Captain George's Seafood Restaurant to benefit the Children's Performance Workshop against child abuse 1997-1998
Santa Claus Vacations in Virginia Beach, July 1998 featuring Santa Claus in a bathing suit singing and performing for many vacationers at the beach front, Virginia Beach, Virginia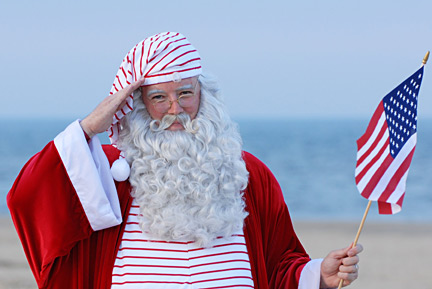 Christmas Extravaganza 1998 Manteo, North Carolina
Grand Illumination for Founder's Inn and Conference Center 2002-2010
'Breakfast With Santa' Founders Inn and Conference Center 2002-2013
"An Evening with Santa" at Founders Inn. A full concert extravaganza with several music selections sung by Singing Santa, along with readings, audience participation, and special appearance by Frosty the Snowman, 2004-2013
Breakfast with Santa Pembroke Meadows, Holland, Glenwood, Butts Road Primary, Cook, and Birdneck Elementary Schools 1992-2010
Annual Christmas Dinner, YMCA Battlefield Boulevard, Chesapeake, Virginia 2005-2013
Virginia Beach Holiday Parade November 2003, 2004 and 2006 with 15,000 visitors in attendance
He is so convincing in his role that even his own children do not recognize him.
Graduate of the Charles W. Howard Santa Claus School Midland, Michigan October 15, 2005
Luncheon/Fundraiser for Children's hospital of the King's Daughters with six hundred attendance December 2006
Tree Lighting Ceremony for the City of Norfolk 2005-2006
Applied and received Trademark for the name "Singing Santa Claus" in the State of Virginia 2008
Audition for producers of America's Got Talent in Charlotte, NC – February 2008
Auditioned for celebrity judges Sharon Osborn, David Hasselhoff, and Piers Morgan at America's Got Talent auditions in Atlanta, Georgia – April 2008
Appeared on National Television for America's Got Talent – June 17th, 2008
Performed at the Winter Wonderland: The Colman Collection, Courthouse Galleries in Portsmouth, Virginia 2005-2010
Santa for the Christmas parade in Portsmouth, Virginia 2007-2010
Member of ClausNet.com, a worldwide online community for Santa Claus, Mrs. Claus, Elves, and Helpers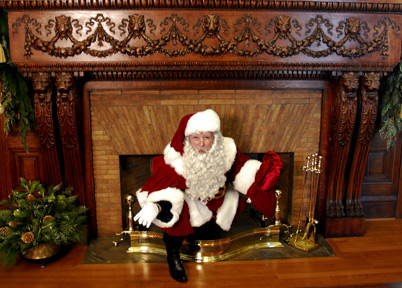 The first thirty years are just a beginning for Singing Santa Claus!
His constant ambition to be the Best Santa Claus ever is a constant work in progress. His dream is to one day be the Santa Claus for the Macy's Day Thanksgiving Parade. A dream he knows will one day come true with hard work, a love of Christmas, and a hearts desire to share that love with children both young and young at heart.
Contact Singing Santa Claus!
To find out if Santa Claus is available for a visit with you, contact Santa's Helper Tom Long today!
Tom Long
Executive Assistant to Santa Claus