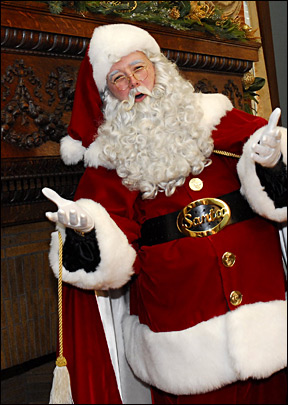 The name Tom Long is synonymous with the name Santa Claus, at least at The Founders Inn.
For the past 10 years, Long has been the jolly old man in the red suit at the inn. This is the 20th year that the Founders Illumination has ushered in the start of the holiday season in Hampton Roads.
The tradition kicks off at noon Sunday and runs until 8 p.m. At 6 p.m., the grounds transform into a magical winter wonderland when thousands of white lights begin a sparkle that lasts throughout the holiday season.
Free and open to the public, the event has always been a gift to the community, said Jean Vinson, public relations coordinator for The Founders Inn and Spa, which is now under the management of West Paces Hotel Group.
"The kids just love it; they get stars in their eyes," said Vinson, adding that organizers expect about 2,000 people to attend.
Each year, attendees look up in awe at the 35-foot Christmas tree in the atrium while musical groups such as St. Gregory the Great Catholic School Children's Choir, Young Musician's Middle School, Providence Presbyterian Church Hand Bell Choir, Norfolk Christian Windsong and more perform beneath it.
The activities, inside and out, are for young and old. They include: a marionette show by Spectrum Puppets, reading of the Christmas story by Pat Robertson, face painting, Singing Santa Claus, Philippine Cultural Dancers, Rhythm of Ireland Dancers and carriage rides.
This year, three new acts join the mix of entertainment: a yo-yo artist, Krendl the Magician and toy soldier stilt walkers. But, the one familiar face everyone comes to see and talk with, of course, is Santa Claus.